---

In the midst of Sri Lanka's reeling from what appears to be well-coordinated terrorist attacks in Colombo and elsewhere, two participants of the IGSL Peace Studies PhD program have been active in preparing their communities to respond in a healing way. One of them, Dr. Mano Emmanuel, Dean of Colombo Theological Seminary (CTS), shared this report just after the attacks:
_____________________________________________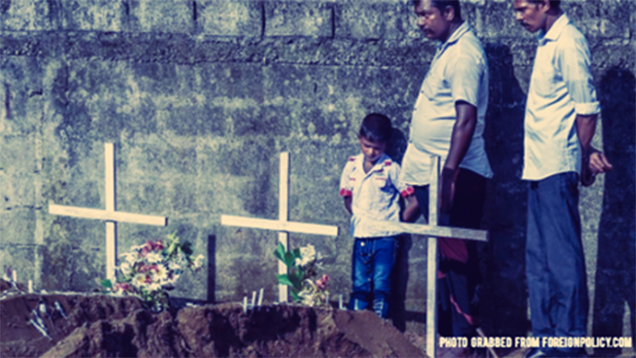 Churches crowded with worshippers were attacked on Easter Sunday morning—two large Catholic churches and one of the largest protestant churches in Northeast Sri Lanka. Three more attacks were on five-star hotels in Colombo. The number of deaths rose rapidly from around 20 to over 250. Some of those who have survived are maimed, many are traumatized. One extension student was killed in the Batticaloa church bombing. Ramesh had been trying to usher the bomber out of the church because he looked suspicious.
On Good Friday, just two days before the attacks, we held a "silent stand" outside our church to ask for religious freedom after a Methodist church was attacked in north-central Sri Lanka. Attacks on minorities are not new. Now, however, everyone is afraid because unlike before, anyone could be a target.
In our Good Friday service, I preached on the words of Jesus from the cross, "It is finished." I reflected on how it doesn't seem finished when we look at the world around us or even in our private worlds. We are engaged in a costly rescue mission to a world that has its course set towards destruction. We also remembered Jesus' prayer, "Father forgive them, they know not what they do."
Today as we were coming home from a police station, the young driver of our trishaw (three-wheeler taxi) said, "We are scared". While we were there a young man came in to claim the personal effects of his mother and father who had died in the restaurant at one of the hotels. Every so often he would weep. Who knows his story? Perhaps someone had come down from overseas and they were celebrating and enjoying family time together. In an instant, it was over.
A young woman posted a picture on Facebook saying she was having breakfast with the family. Moments later she and her mother were killed in the blast. How fragile life is. How much people need to hear the gospel of life and hope!
___________________________________________________
Dr. Mano Emmanuel is the first PhD graduate of the IGSL Peace Studies program which seeks to help people build, make, and sustain God's peace. She graduated in 2017 with a dissertation on: Understanding reconciliation in the honor-shame context of Sri Lanka.