---
God had a purpose for us to stay in a house where we (and I particularly) did not want to stay. The place was gloomy and dirty. A single man around 60 years old owns the house. At first, we didn't know that he was intentionally keeping his house very untidy, until the pastor of our host church gave a little background about him.
The man left the church and backslid from his faith. His outer appearance reflected his inner condition. He was depressed, and due to a tragic incident in the past, he started taking medicines for anxiety and depression.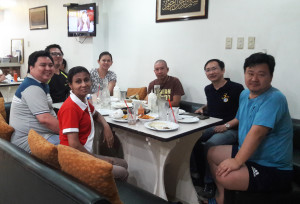 During our last team devotion at his place, he shared his testimony and confessed that he didn't want us to stay in his house. But, somehow, he was forced to accommodate us. Later on, however, he said that we turned out to be a blessing for him. He also mentioned that the day he started joining our team devotion, he stopped taking his medication. He started going to church and attended seminars that our team conducted. To our surprise, he started cleaning, and even changing some of his house things.
As a team, we have seen a visible transformation in him. It strengthens our faith as we have personally witnessed what the Bible clearly says in Romans 8:28, "And we know that God causes all things to work together for good to those who love God, to those who are called according to His purpose."
–Saira Younes, TLP Parañaque Team