---
Peace Studies Program
"Restoring community and building a lasting peace through the Church"
A program of the International Graduate School of Leadership (IGSL) in cooperation with the Asia Graduate School of Theology-Philippines.
(AGST-Philippines is a consortium of evangelical seminaries in the Philippines established by Asia Theological Association (ATA) in 1984 to offer post-graduate programs.)
The program jointly offers two possible doctoral degree completions: the DMin (Doctor of Ministry) or the PhD (Doctor of Philosophy). Alternately, the program can be finished with a ThM degree.
A new cohort (the fourth) is being recruited now for starting courses in July 2019. Applications are coming in now with the deadline of October 15, 2018.
Mission: The Peace Studies program is designed to develop servant-steward leaders who will model and teach their churches and other ministries how to respond to conflict with biblically based, Christ-centered reconciliation (2 Cor 5:17-20; Mt 5:23-24). As a result, their ministries can more effectively fulfill the Great Commandment and Great Commission in a broken world.
(NOTE: For more detailed information, please refer to the links on the right side-bar.)
---
Further Program Information
For more information, help in applying, other questions, please contact:
Dr. Steve Hobson, Joint Program Committee Coordinator
Email:
Steve.Hobson.IGSL@gmail.com
Postal Mail:
IGSL DMin Peace Studies
Office of Admissions
QCCPO Box 1495
Quezon City, MM 1100 Philippines
Ambassadors for the Prince of Peace: Resolving Conflicts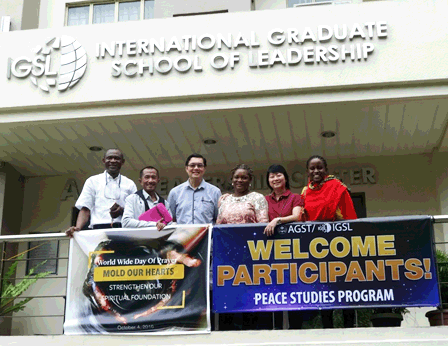 The third cohort of the IGSL/AGST Peace Studies Program met in October 2016 at the IGSL campus. Eight upper-level leaders from six countries on three continents gathered for intensive courses. They represent the Philippines, Indonesia, Singapore, Nigeria, Uganda, and the USA. Four of the program participants are faculty members of seminaries in the Campus Crusade consortium of graduate schools (IGSL, East Asia School of Theology, and African Centre for Theological Studies).
During the first three weeks, participants took courses in the core curriculum:
Personal Life/Ministry Assessment with Dr. Steve Hobson (October 3-7),
Theology and Practice of Personal Peacemaking with Dr. Karl Dortzbach (October 10-14), and
Models of Qualitative Research with Dr. Hobson and Dr. Dortzbach (October 17-21).
Their last week on campus focused on personal mentoring appointments and planning for the year ahead.
It has often been joked that PhD programs yield "Permanent head Damage." These IGSL/AGST participants see their program differently. Along with challenging academic growth, they anticipate "Persistent heart Development."
In-depth Scripture study, a battery of self-assessments, and open-hearted processing bring a mirror to the soul. Understanding how conflict springs from desires (James 4:1-3) and the biblical call to forgiveness and reconciliation (Mt 6:12,14; 2 Cor 5:19-20) further challenge the heart to deepen. Theology, in-depth research/analysis, and practical ministry skills all combine in this unique inter-disciplinary program.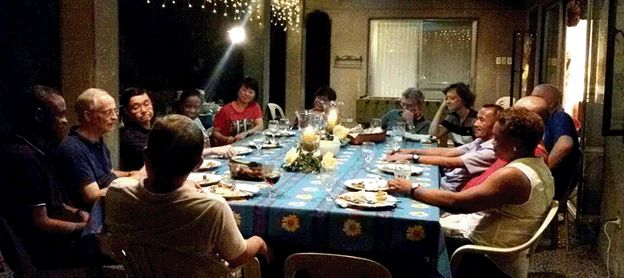 The month began with a tour of Manila. The cohort celebrated the completion of 120 hours of classroom work with dinner at Dr. Hobson's home. On October 27, the month ended with a celebratory banquet where supporters, leaders, and friends of the program participants came together.