---
Jesus called all of his followers—young or old, rich or poor, trained or uneducated—to make disciples of all nations. And we at IGSL are privileged to team up with business owners, professionals, churches, Christian organizations, foundations, and many others to help fulfill the Great Commission. Many times we have been surprised by the countless ways God enables His children to heed His call.
___________________________________
Recently, 101 Jubilee Christian Academy (JCA) students blessed six families from IGSL. Through Alkansya Para Sa Misyon, part of JCA's efforts in teaching a Great Commission lifestyle to students, these third graders committed to share part of their allowance to show children of missionaries that they are loved and prayed for. For a little more than a month, they faithfully added to their banks each day, and faithfully prayed for their IGSL buddies whom they invited to their chapel time on October 12.
As the IGSL kids went on stage, Ms. Rester Joy Evangelista, Community Care Coordinator of JCA, talked briefly about the home country of each child. JCA students got a glimpse of how Christians live in Bangladesh, Congo, India, Indonesia, Pakistan, and Vietnam. When it was time to hand over their gift, Ms. Evangelista informed them that they had not only reached but exceeded their goal. Loud hoorays, cheerful applause, and glowing smiles filled the chapel!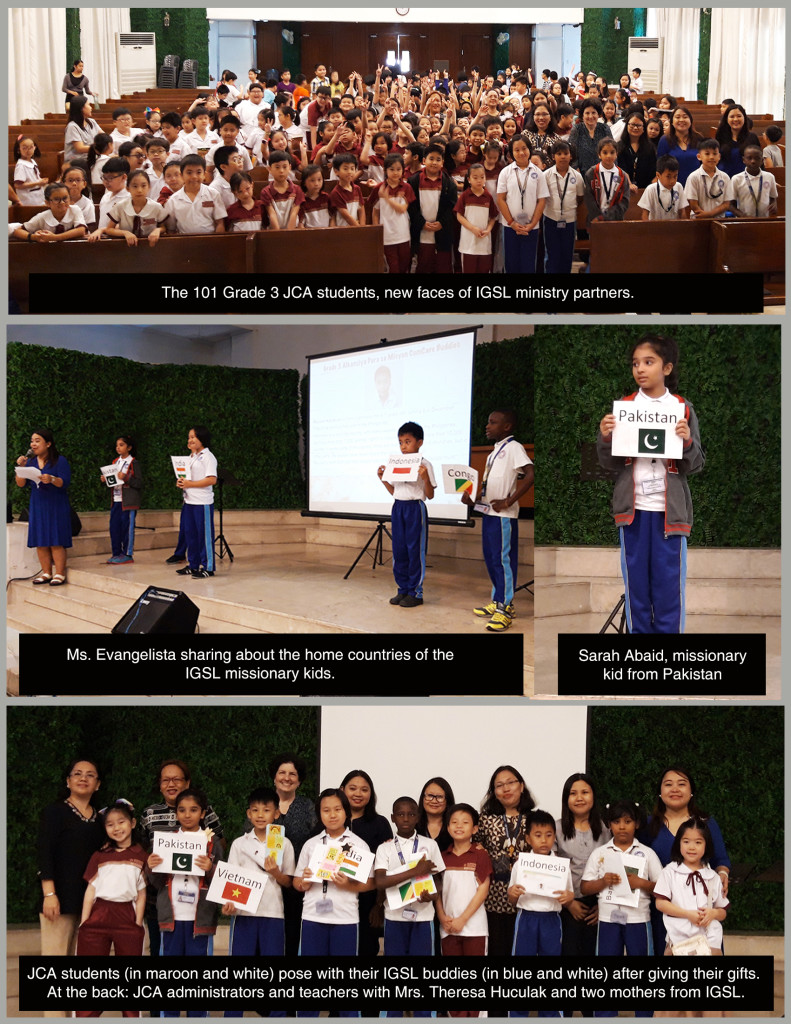 Mrs. Theresa Huculak, IGSL Community Services Coordinator, thanked the JCA students and teachers for partnering with missionary families and shared how blessed we are in the Philippines with the freedom to live as Christians. She encouraged them to continue praying for the families and countries of their IGSL buddies.
The children from IGSL, in turn, were blessed and encouraged, seeing how they are part of their parents' calling as missionaries.
It's amazing how God can use nine- and ten-year-olds to love and care for his family around the world! Pray that these JCA students and IGSL missionary kids will continue to obey God in taking part in His mission as they grow.
How about you, how is God challenging you today to help fulfill the Great Commission?
S H A R E