---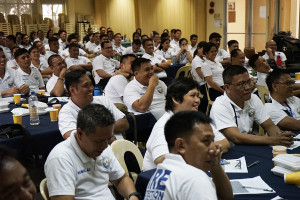 On October 19, 2017, more than 100 officers from the Bureau of Fire Protection (BFP) attended the Spiritual Enhancement Seminar held at the IGSL Chapel. This one-day event was facilitated by IGSL instructors Dr. Raymund Go, Lut Go, and Moi Mosquera, as well as by students Police Senior Inspector Dennis Mancenido and his wife, Geelyn.
The seminar aimed to encourage the BFP officers to prioritize God and their family, as well as to practice integrity at home and in the workplace. These principles were shared and processed through talks, games, and group discussions.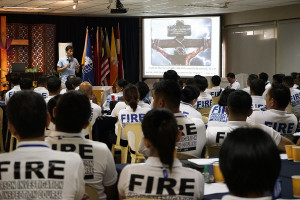 One of the highlights for most of the participants was the talk of former Armed Forces of the Philippines Captain Gerardo Gambala. He shared about his journey from military school to war, from loyal service to rebellion, from being a proud idealist to becoming a humbled and transformed inmate, and from being a self-serving person to becoming a servant-steward leader.
Fire Officer 3 (F03) Abegail Torotoro shared that she found some of her own experiences similar with that of Gambala, especially that of getting disheartened with the government system. Gambala's talk was an eye-opener for her, and encouraged her to be humble and be a good example despite the hardships of serving as a uniformed officer. Moreover, she said that the entire day served as a great reminder for all of the participants to draw closer to God.
Indeed, IGSL is grateful for open doors in the Philippine government and for men of peace who partner with us in building leaders who will catalyze transformation in key sectors of society.
S H A R E