More than 700 people joined the celebration. The change of official public holiday from September 13 to September 12, which initially caused concern for many, did not at all deter people to come. Amazingly, the threat of an impending typhoon that was expected to hit the country that day did not affect any part of Metro Manila. Tuesday, September 13, was the best day of the week – bright skies but not too hot, not a drop of rain, and blowing of soft breeze. What a wonderful God we have!!!
God Deserves all Glory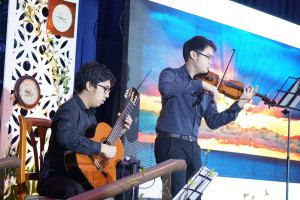 The program was done to point people to God, whose greatness and faithfulness brought IGSL from a small beginning to what it has become today, and what it will become in the years to come. Every single person involved in the program has been a part of God's wonderful work at IGSL. Patrick Roxas, the second child of IGSL President, Dr. Tom and Cynthia Roxas, and James De la Cruz, a first year IGSL student, opened the celebration, with a wonderful guitar and violin rendition of "The Majesty and Glory of Your Name". It was a fitting musical piece that presents the majesty of God, the Creator of this world, and IGSL. No one else deserves the glory!

A beautiful worship dance presentation of the song, "Let There Be Praise" moved people to tears especially when the younger kids paraded toward the stage while waving the flags that represented their countries. The dance was put together by Yumi Morales, the eldest daughter of faculty members, Zac and Ruth Morales. The dancers are part of her ballet class and current students of Dynamic Learning Center (DLC), IGSL's Home school.

God inhabits the praises of His people. The praise & worship time was led by a mixed group of IGSL alumni, faculty, staff, and students, and joined by the guests. Many testified how they experienced an atmosphere of intimate worship as they joined in chorus of praises to God. Three international groups – sang "Bless the Lord Oh my soul", in their native language, interspersed by prayers of gratitude expressed by two other countries. It was a taste of heaven hearing different nationalities worshipping and praying to God in their native tongue.