"What is a leader?" Senator Datuk Paul Low, minister in the Prime Minister's Department of Malaysia, asked the graduates of the International Graduate School of Leadership (IGSL) during their commencement exercises in Quezon City on Saturday, April 11, 2015.   "A leader is one who wants things to be better for our families and for others."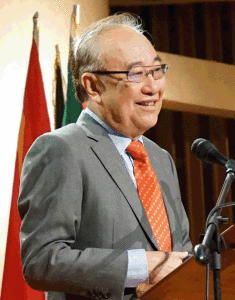 Senator Low, the guest speaker for IGSL's graduation, oversees issues of integrity, good governance, and human rights for the Malaysian government.  Senator Low challenged the graduates to be "salt and light" as they go back to serve in their home countries.  "None of us is given our positions by chance," Low told the graduates. "We are put there by divine appointment." Low encouraged the graduates to serve out of humility, and with God's help to bring more of his kingdom to earth.  He challenged them to take "righteousness, love, mercy, peace, and harmony" back to their countries and communities.
Sixty-six men and women from 13 countries comprised the 29th graduating batch of IGSL, completing graduate leadership degrees, such as Transformative Teaching and Learning, Transformational Leadership, Biblical Studies, Master of Divinity, and Doctor of Ministry in Leadership Effectiveness.  Nineteen graduates were women who completed a two-year certificate course for the wives of men in ministry called "Partners In Ministry" or PIM program.  The graduates will serve in their countries of Bangladesh, Burundi, Canada, India, Indonesia, Myanmar, Nepal, Pakistan, Philippines, and Thailand, among others.
Senator Low was a leader for 35 years in the glass industry in Malaysia, but then became more involved in working in the areas of integrity and government accountability.  In 2013, Low was appointed by Malaysian Prime Minister Najib Razak to his current government minister position as Minister of Governance, Integrity, and Human Rights.
The International Graduate School of Leadership is an accredited, graduate school in Quezon City, Philippines that has a mission to build up leaders for movements of transformation in over 30 countries of Asia and other parts of the world.