"God's Call: Seize the Day, Reach the World!"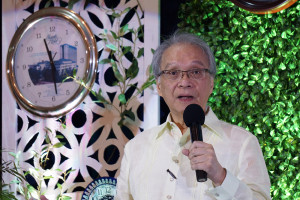 Dr. Andrew Liuson powerfully clinched the celebration and nailed down the theme, "God's Call: Seize the Day, Reach the World" by sharing his own journey – a near-death saga with liver cancer turned out to be God's instrument to draw people to Him. Death was not remote. But he did not waste time, instead he used that opportunity to do what he believes would count for eternity.
God handpicked people who would actively participate in fulfilling His plans. One of those people is Dr. Liuson, chairman of IGSL's Board of Directors. His involvement springs back from 1994 when then ISOT-Asia (International School of Theology – Asia, now IGSL) was just contemplating on owning a property where it could eventually build its home. Only God knows the full extent of his support to IGSL from its early beginnings up to this day.