---

The stage was draped with brilliant colors to highlight the many ways God has shown His faithfulness. Declarations of worship, adoration and praises were offered to God through songs and testimonies of hearts overflowing with gratitude.
"Fabric of Faithfulness." This was the theme in this year's Philippine Campus Crusade for Christ (PCCC) Honoring Night held at Greenhills Christian Fellowship on April 24, 2017. The theme succinctly summarized the descriptions of honorees who served PCCC for 5, 10, 15, 20, 25, 30, 35, and 40 years. Out of 38 honorees, 9 have been serving at IGSL as resident faculty. They are:
Like any CCC missionary, each one of them is not exempt from the faith-stretching challenge of raising support. Yet they continue to heed God's call for them to serve Him full-time, setting aside any chance of working in a lucrative job. Why? All of them express similar sentiments. Nothing can beat the out-of-this-world satisfying experience of seeing God's power at work. He has been faithful in providing, protecting, encouraging, producing fruits of changed lives, healing, and sustaining them to do what they have been doing.
God is faithful!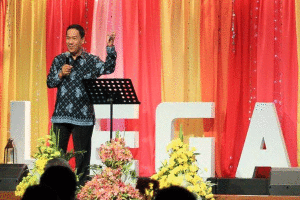 Before the event concluded, Dr. Tom Roxas gave glory to God for remaining faithful through his 40 years of journey with Him. A journey that included ups and downs, typical of a PCCC missionary life, where up times could be times when support is coming in, health is good, ministry is growing, and disciples are growing and responding well to challenges. Down times are just the opposite. But through it all, God never ceased to be faithful.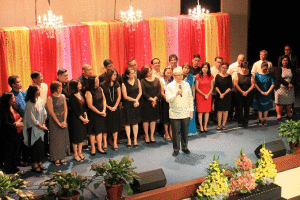 IGSL Chairman of the Board Dr. Andrew Liuson briefly exhorted the audience before praying for all the honorees. He challenged them to be used by God in proclaiming Christ and His salvation for life.
S H A R E