---

Dr. Ajith Fernando, who taught in IGSL as a visiting faculty in 2002, gave a two-hour seminar in IGSL on "Rediscovering the Lost Art of Discipleship" last November 15, 2016. Attended by an audience of almost two hundred, many left the seminar feeling challenged, inspired and refreshed.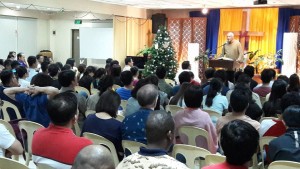 Based on 1 Timothy 1: 18-19, his talk presented practical truths in disciple-making, citing the importance of an affectionate parenting relationship between discipler and disciple. To expound on this, he encouraged the audience to "struggle with souls of people to present [people] mature in Christ." He also reminded everyone to slow down in this fast-paced society and to learn one of the important skills in ministry – to divest. This is to practice dropping things in our lives to make space for individuals.
Dr. Fernando wisely warned the audience against insecurity when discipling people and encouraged them to pray, focusing on what they envision their disciples to become. He then ended the seminar with a challenge to multiply in the lives of others, closing with 2 Timothy 2: 2, "And the things you have heard me say in the presence of many witnesses entrust to reliable people who will also be qualified to teach others." A forty five minute question and answer followed the talk.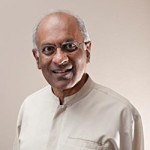 ---
Dr. Ajith Fernando (ThM, Fuller Theological Seminary) is the Teaching Director of Youth for Christ in Sri Lanka after being National Director for 35 years. His ministry includes counselling, mentoring and teaching with Christian leaders and workers in conferences and theological schools in Sri Lanka and abroad. He is a visiting lecturer at Colombo Theological Seminary.