---

The massive 7.8 earthquake that devastated Nepal on April 25, 2015 was the most powerful earthquake to strike the country in more than eight decades. The death toll is expected to exceed 10,000, with thousands more injured and rural villages almost completely wiped out. At present, there are 65 Nepali alumni of the International Graduate School of Leadership (IGSL), most of them are staying in Kathmandu. IGSL Faculty members, James and Theresa Huculak, were in Nepal when the earthquake happened and have helped mobilized relief distribution in partnership with John Chhetri and other alumni. They are targeting areas that have not yet been reached with the needed aid.  Here's a glimpse of the relief efforts that have been going on for the past seven days as related by James and Theresa Huculak and other IGSL alumni.
 ______________________________________________
RELIEF EFFORTS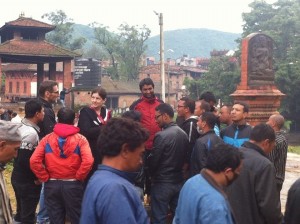 Prof. THERESA HUCULAK: "On Monday, our team had gone out and surveyed the affected areas, and started planning our strategy. We all agreed that our guiding principle should be showing love to all with no strings attached. No signs, no banners, no announcements about who we are… We are seeking to work with the community leaders in each place. On Tuesday, we were able to purchase rice, dahl, salt, oil, biscuits and medicines. Our target was Bhaktapur. We provided food for about 500 people, not just for one day but for several days. The people were deeply appreciative, and they send their thanks to all of you." – 4/29/2015
SATYA: "Today the reliefs were distributed in Kirtipur at Gamcha. Around seventy houses had collapsed. Some reliefs have been distributed at Pikhel, Golmadhi and Sukudhoka in Bhaktapur. Some reliefs have also been distributed at Sankhu in Kathmandu. Very sad to see my brother-in-law lost his house in Sankhu and living in tents."
VOLUNTEER with IGSL TEAM: "We were able to drop 30 sacks of rice, 3 sacks of dahl, 100 pkts of salt, 10 boxes of cooking oil, boxes of water, noodles, biscuits, and soaps – divided and sent to 7 communities. We want to go back to another area. This place is still not receiving enough supplies for all families. This time we want to divide rations into many packets to hand out to each family." (5/1/2015, Sankhu)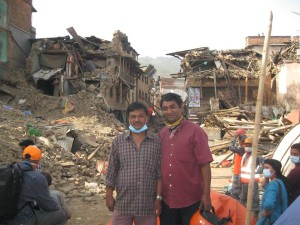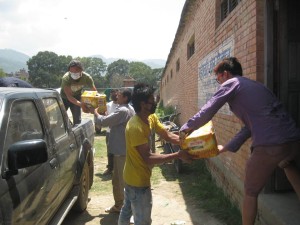 JOHN CHHETRI: "Today we were able to send some tents to Ramechhap. In the morning (the next day) we went to Phulchowki for relief distribution and was really surprised to find out that not a single aid had reached them til now. In the afternoon, we were able to send the truck load of relief materials to Sindhupalchok and visited Sankhu for relief distribution as many were left out yesterday." (5/1/2015)
JAMES HUCULAK: "An IGSL team of alumni and myself, joined with others to visit Sindupalchok. Our truck of food supplies had arrived few hours earlier. We talked with the community leaders about their needs and visited Rajendra's family and that of the Pastor in the village. It was a very encouraging time for all." (5/3/2015)
KUMAR ARYAL: IGSL Nepal Earthquake Relief Team's Updates, May 26, 2015: 
"We went back to Kharanitar of Nuwakot district where we got hit by the massive windstorm few days ago. We brought tents for 100 families in Aldanda and Kharanitar who don't even have a temporary shelter. People walked for 4 hrs to get a tent and were so glad to have a temporary shelter for themselves. Those are remote parts of Nuwakot where relief supply doesn't normally reach. We praise God for good weather, safe travel and smooth distribution of tents."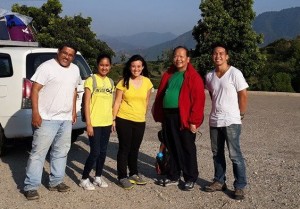 On May 5, a group of four IGSL students from the Philippines arrived in India. Their original purpose was to be exposed to the ministries in India and Nepal and to get together with IGSL alumni for an alumni gathering. Their trip turned out to be a volunteer relief work for those affected by the earthquake in Nepal.
 ______________________________________________
Please join us in praying for Nepal:
1. More immediate distribution of good water, shelter, clothing, bedding, and medicines.
2. For God's protection from aftershocks, changing weather, mobbing incidents and disease threats.
3. More volunteers to help distribute relief goods.
4. Locals who can be trained to debrief the survivors.
5. Protection for our teams who are currently doing relief work in Nepal. Pray for good health for each one.
6. More search and rescue teams to help recover those buried under the rubble.
7. Many thousands of people be rescued, that more than just physical bodies, souls will be saved! May God grant the nation strength and hope in this time of great suffering and death of many loved ones. May the Lord embrace them all with His love!
______________________________________________