---
Sixty-five men and women from 10 countries finished their studies at the International Graduate School of Leadership (IGSL) and were commissioned on April 9, 2016 at Grace Christian Church, Quezon City, Philippines. The 2016 graduation ceremony was IGSL's 30th Commencement  Exercises. The Class of 2016 chose the theme: "God's Abounding Grace to the Nations" – humbly offering themselves as channels of God's grace to the world.
Rev. Chan Chong Hiok, President of East Asia School of Theology (EAST) in Singapore was the guest speaker. He was one of the first graduates in 1984 of the then International School of Theology – Asia (ISOT-Asia), now IGSL.  Rev. Chong Hiok shared a message based on Matthew 14:13-21, the Feeding of the Five Thousand.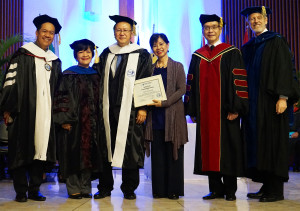 Following his commencement address, IGSL conferred upon Rev. Chan Chong Hiok the degree of Doctor of Divinity (Honoris Causa). He embodies exemplary servant-steward leadership and commitment to God and to the Great Commission, and upholding the core values of IGSL. IGSL and EAST are committed to support each other in building spiritual movements, exerting moral influence, and transforming nations for the glory of God.
Related Story: