---

Sixty-seven leaders from 14 countries received their diplomas from IGSL on April 8, 2017 during the 31st commencement exercises held at Christ's Commission Fellowship (CCF) in Pasig City. The graduation theme of "Living to Declare God's Grandeur" was a fitting culmination to their training at IGSL as these graduates have committed to declaring God's splendor and greatness through their personal lives and various gospel-centered ministries.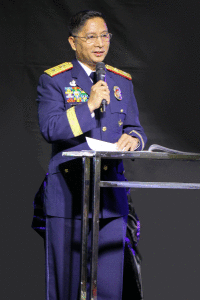 This year's commencement speaker was Police Chief Superintendent Cesar Hawthorne Binag, head of the Philippine National Police (PNP) Firearms and Explosives Office. He is highly commended by PNP Chief Gen. Ronald "Bato" de la Rosa as one very respectable and incorruptible officer.
PCSupt. Binag shared that "to declare God's grandeur is to declare Jesus Christ." Binag is a product of IGSL's discipleship ministry in the Philippine Military Academy during the 1980s, and has been actively sharing the truth and love of Christ as a public servant for more than three decades. He exhorted the graduates to remember that "any leadership position is an opportunity to declare Jesus Christ." Binag shared stories of amazing opportunities God gave him to witness naturally for Christ in the course of his military and police service.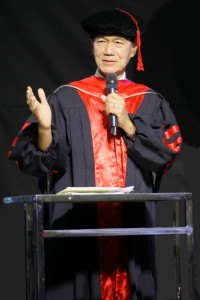 After the formal conferral of certificates and degrees, special honors were given to exemplary students. Long-time faculty members were also given special recognition and thanks. Rev. Dr. Peter Tan-Chi, founder and senior pastor of CCF, and also an alumnus of IGSL, then charged the graduates to "finish well, finish strong," and gave practical advice for helping them to do so.
All of us at IGSL send out the Batch of 2017 with our warm congratulations and fervent prayers that they would be used mightily by God to bring transformation to their communities and countries as they declare His grandeur to the nations.
---
Here are some snapshots of the graduation:
S H A R E