---

"I sensed the presence of God during the whole program", "I had a wonderful worship experience", "I'm glad I came", "simple but powerful program of worship and gratitude for God's faithfulness", "I was simply awed…everything seemed to have the touch of the Almighty!", "I returned from the IGSL Anniversary celebration with deep stirrings in my heart in praise and gratitude to the Lord…" 
These are but few of the many wonderful remarks people said about the recently concluded 35th anniversary celebration of IGSL. Rejoice with us and experience vicariously the celebration through these photos.
_________________________________________________________
"This is the Day that the Lord has Made"
More than 700 people joined the celebration. The change of official public holiday from September 13 to September 12, which initially caused concern for many, did not at all deter people to come. Amazingly, the threat of an impending typhoon that was expected to hit the country that day did not affect any part of Metro Manila. Tuesday, September 13, was the best day of the week – bright skies but not too hot, not a drop of rain, and blowing of soft breeze. What a wonderful God we have!!!
God Deserves all Glory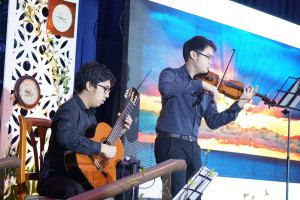 The program was done to point people to God, whose greatness and faithfulness brought IGSL from a small beginning to what it has become today, and what it will become in the years to come. Every single person involved in the program has been a part of God's wonderful work at IGSL. Patrick Roxas, the second child of IGSL President, Dr. Tom and Cynthia Roxas, and James De la Cruz, a first year IGSL student, opened the celebration, with a wonderful guitar and violin rendition of "The Majesty and Glory of Your Name". It was a fitting musical piece that presents the majesty of God, the Creator of this world, and IGSL. No one else deserves the glory!

A beautiful worship dance presentation of the song, "Let There Be Praise" moved people to tears especially when the younger kids paraded toward the stage while waving the flags that represented their countries. The dance was put together by Yumi Morales, the eldest daughter of faculty members, Zac and Ruth Morales. The dancers are part of her ballet class and current students of Dynamic Learning Center (DLC), IGSL's Home school.

God inhabits the praises of His people. The praise & worship time was led by a mixed group of IGSL alumni, faculty, staff, and students, and joined by the guests. Many testified how they experienced an atmosphere of intimate worship as they joined in chorus of praises to God. Three international groups – sang "Bless the Lord Oh my soul", in their native language, interspersed by prayers of gratitude expressed by two other countries. It was a taste of heaven hearing different nationalities worshipping and praying to God in their native tongue.
————– Greetings ————–
Ms. Judy Douglass, wife of Campus Crusade for Christ – International President, Dr. Steve Douglass, came all the way from Orlando, Florida to represent the Global Leadership of CCC International in celebrating IGSL's 35th anniversary. Echoing what Steve said in his video message, Judy affirmed IGSL's role in training the key leaders of Campus Crusade for Christ in different parts of the world.
By the same token, Dr. Henry Tan, President of the International Leadership Consortium of which IGSL is a member, said, "The exemplary lives of faculty, students and alumni committed to impact Asia and beyond for Christ is a testament of the wonderful work of our Lord Jesus in and through IGSL."
Stone of Remembrance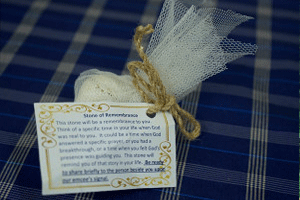 Many were in tears as they share with one another God's goodness in their lives. The "stone of remembrance" which everyone got when they entered the hall, was a reminder of God's enduring goodness and faithfulness. Nanette Salting, IGSL alumna (class of 2005) capped that portion with the song of gratitude, "Tribute", inviting everyone to affirm what God has done in IGSL and in their personal lives.
Different Eras of IGSL Portrayed
"God's Call: Seize the Day, Reach the World!"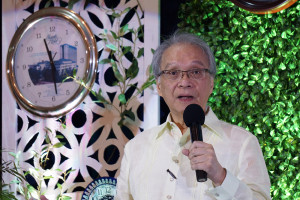 Dr. Andrew Liuson powerfully clinched the celebration and nailed down the theme, "God's Call: Seize the Day, Reach the World" by sharing his own journey – a near-death saga with liver cancer turned out to be God's instrument to draw people to Him. Death was not remote. But he did not waste time, instead he used that opportunity to do what he believes would count for eternity.
God handpicked people who would actively participate in fulfilling His plans. One of those people is Dr. Liuson, chairman of IGSL's Board of Directors. His involvement springs back from 1994 when then ISOT-Asia (International School of Theology – Asia, now IGSL) was just contemplating on owning a property where it could eventually build its home. Only God knows the full extent of his support to IGSL from its early beginnings up to this day.
"Our Heart, our desire is to see the nations worship"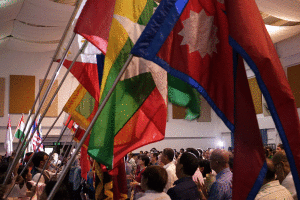 Forty-three flags representing current and past students of IGSL, were paraded and waved toward the front as everyone sang the song, "Our Heart, our Desire is to see the nations worship." This is IGSL's heartbeat – to build leaders who will transform their country and eventually the world according to the leadership principles of our ultimate model of servant-steward leadership – JESUS CHRIST!
The celebration ended with the launching of the book, "God of the Impossible". This is a compilation of stories of IGSL alumni
__________________________________________
Launching of the book "God of the Impossible"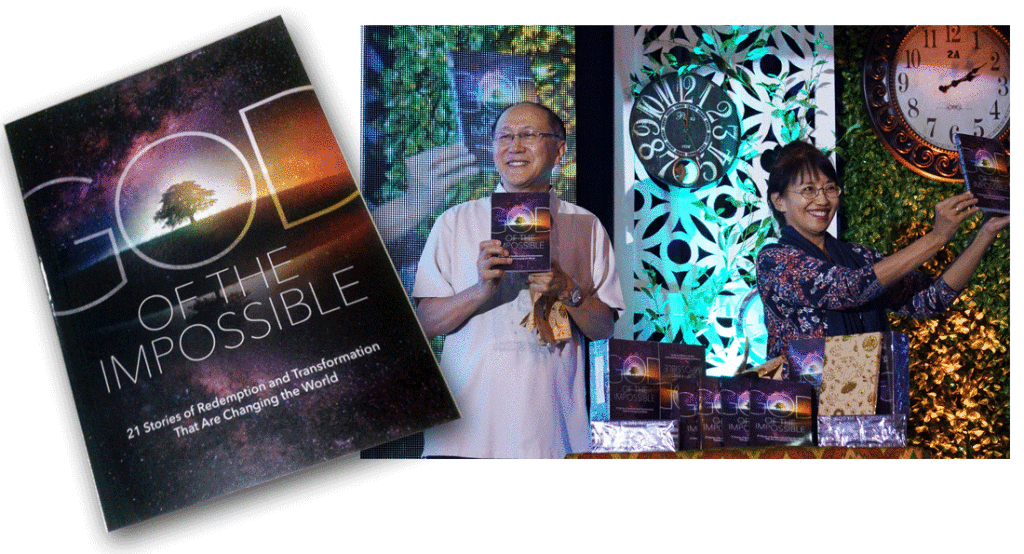 Book launching immediately followed the grand anniversary celebration. The book titled "God of the Impossible" is a collection of stories written by IGSL alumni ministering in different parts of the world. The book showcases God's hand in each of the lives of these alumni, both in joyful times and trying times.