---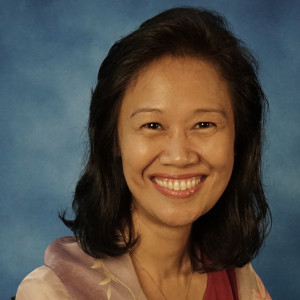 TEACHING AREAS
English as a Second Language (ESL), Partners in Ministry
Communication in Ministry, Partners in Ministry
Reaching the Next Generation through the Church, Partners in Ministry
EDUCATION
AB Communication Arts, Maryknoll College Foundation, Inc. (now known as Miriam College)
Mary Michelle Gumogda-Agustin serves as Marketing Team Leader at IGSL. She has been on staff with Philippine Campus Crusade for Christ and a faculty in the Partners in Ministry (PIM) certificate program since 1996.
Aside from teaching PIM courses, she also leads an Iron Sharpening Group (ISG), a weekly meeting of PIM students for mentoring, and accountability.
Before coming to IGSL, Michelle worked in advertising until she sensed God's call for full-time ministry.  Since then, she has been committed to nurture women, children, and teens towards spiritual maturity.
Her ministry outside IGSL includes teaching Bible study and leadership training classes to high school students, training Sunday school volunteers, teaching women in church, and joining her husband in leading Bible studies and teaching marriage and parenting seminars.
Homeschooling one of their sons in 2011 increased Michelle's appreciation for education. Her other training experiences include attending teachers' seminars, finishing a certificate program in Child Evangelism Fellowship (CEF) in 2000, and finishing a certificate program in Asia's Center for TESOL (ACT) in 2013.
Michelle is from Quezon City, Philippines, and was married to Eric Agustin in September 1995.  They have three sons, Nathan, Timothy and Noah. She is an avid learner who enjoys reading blogs, Christian biographies and Christian living books, watching TED Talks, learning new skills through online videos, and baking and cooking new recipes.
()
Send Message To: Michelle Agustin