---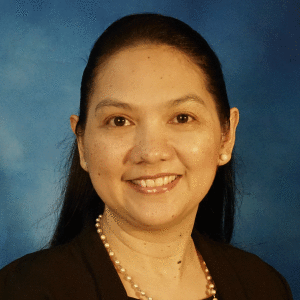 TEACHING AREAS
Creating Learning Environments
Designing and Leading Adult Ministry
Understanding the Church, Partners in Ministry
 EDUCATION
MA in Transformative Teaching & Learning with emphasis on Curriculum Design – International Graduate School of Leadership
Certificate on Partners in Ministry – International Graduate School of Leadership
Bachelor of Religious Education – Ebenezer Bible College and Seminary
Hazel Ann Gerada, together with her husband Peniel, had been serving under the Christian and Missionary Alliance Churches of the Philippines (CAMACOP) since 1998. Both also joined the IGSL faculty in 2013. In IGSL she teaches, leads an Iron Sharpening Group (ISG), and serves as member of the Innovation strategic team.
Her ministry involvements outside IGSL include leading a women's small group and the prayer ministry at Golden City Alliance Followship – Manila. She is a certified teacher of WorldTeach Philippines for The Biblical Portrait of Marriage course as well.
In 1993, she received the Chief Girl Scout Medal at Malacañang Palace for spearheading a community project in Upi, Maguindanao. She also represented Western Mindanao at the Girl Scouts of the Philippines Central Board, Manila from 1991 to 1993.
Hazel was born in Upi, Maguindanao. She is married to Peniel Jugar Gerada, and they have two daughters, Keilah and Krischa.
Send Message To: Hazel Gerada
Send Message To: Hazel Gerada