---
The International Graduate School of Leadership celebrates its 35th founding anniversary on September 13, 2016. The theme, "God's Call: Seize the Day, Reach the World!" intends to present the challenge of Ephesians 5:15-16 to "Make the most of your time because the days are evil". Dr. Andrew Liuson, Chairman of the Board of Trustees and Vice President and Co-Founder of Cityland, will be the keynote speaker.
Following the grand celebration will be the Alumni Days slated on September 13-16, 2016. Alumni from the different parts of the world are expected to come and reunite together in a time of spiritual enrichment and sharing journeys of faith with one another. They will also enjoy a a galore of inspiring messages and seminars to be conducted by the current and past faculty members.
On this day and onwards, we want to honor God, Who has been faithful since the conception of IGSL until what it has become today. To God be the glory!
________________________________________________________________
On its 35th year, IGSL has already trained over a thousand people from 43 countries to become servant-steward leaders in key sectors of society. Currently, the school has a total of 330 resident students and about 200 non-resident students, with 77 faculty members.
How to get to IGSL – Click

HERE
________________________________________________________________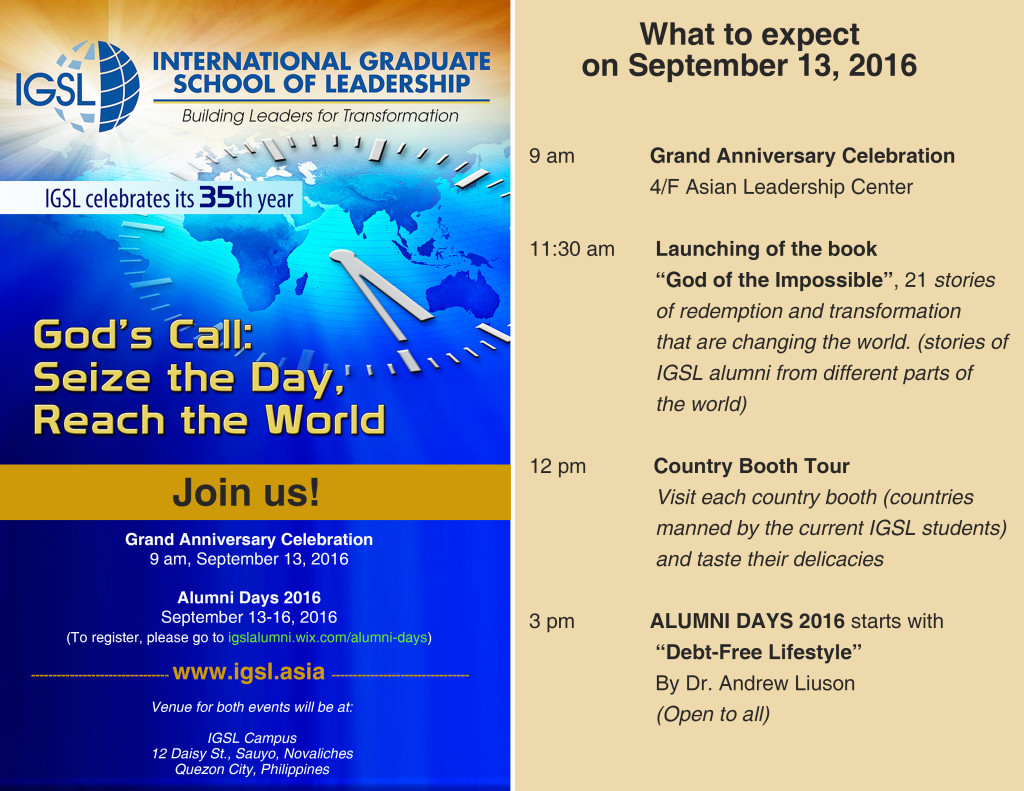 For information about

Alumni Days 2016

, please click HERE: